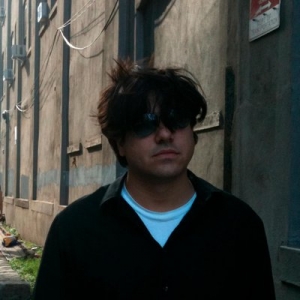 Jimi Pantalon
wash@washmachineproductions.com
Jimi Pantalon is a native New York artist creating experimental films and video installations for over a decade. By regenerating cultural artifacts alongside his own dream-inspired scenes, Jimi has developed a unique cinematic language using stop-motion collage and documentary to seduce, entangle, and inspire through poetic tensions between sight and sound, fiction and non-fiction.
As founder and director of WashMachine Productions, Jimi has produced dozens of interactive art events and film screenings as well as providing professional video projection and documentation for artistic, theatrical, and corporate events in NYC.
His 2010 feature-length experimental documentary Out In The Wash mixes cross-country video journals with performance art to reflect upon conflicts between the personal and the political. Out In The Wash was screened at the 2011 Creator's Project and 2012 Mixed Media Festival and was shown as part of the International Center of Photography's OCCUPY Exhibit on Governor's Island.
In February of 2016 the immersive video installation Galactic Whispers, inspired by the NASA 1977 launching of the Voyager1 space craft, examined the transmission and transmutation of myth and information in our hyper-mediated world. Galactic Whispers was a month long exhibition at Long Island University in Brooklyn's Humanities Gallery.
An ongoing collaborative video installation Bodies Take To Light with artist Daniel O'Neill's hand drawn domestic scenes animated and now inhabited by actors exploring the boundaries between people and their technological devices, exhibited at Brian Morris Gallery NYC 2014, Rhode Island International Art fest 2015, Animated Architecture NYC 2016, and as a month-long exhibition at The Holbrooke Arts Center 2015.
As director of animation he produced the stop­-motion sequences for the 2013 independent film; CLUTTER directed by Diane Crespo and starring Carol Kane.
In 2005 Jimi Pantalon won the Chris Cunningham Award for Excellence in Editing. His short film; BRAIN TRAIN won Best Short Film at Arlene's NYC Picture Show and was shown as part of the 2005 New Filmmakers Program at Anthology Film Archives.
Jimi Pantalon recently completed his first historical fiction film script entitled Echoes Of Bermuda, about the music, politics, and social strife on the island in the 1970's.